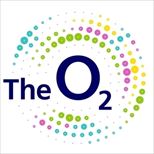 Tickets for events at The O2 Arena, London
The O2 Arena is a multi-purpose indoor arena located in the centre of The O2, a large entertainment complex on the Greenwich Peninsula in London, England. With a capacity of up to 20,000 depending on the event, it is second-largest arena in the UK after the Manchester Arena and one of the largest in Europe. In 2008, The O2 Arena took the crown of the world's busiest music arena from the Manchester Arena, a title which it had held since 2001. The closest underground station to the venue is the North Greenwich station on Jubilee Line. Following the closure of the Millennium Experience at the end of 2000, the Millennium Dome was leased to Meridian Delta Ltd. in 2001, for redevelopment as an entertainment complex. This included plans for an indoor arena. Construction of the arena started in 2003 and finished in 2007. Owing to the impossibility of using cranes inside the dome structure, the arena's roof was constructed on the ground within the dome and then lifted. The arena building's structure was then built around the roof. The arena building, which houses the arena and the arena concourse, is independent from all other buildings in The O2 and houses all the arena's facilities. The arena building itself takes up 40% of the total dome structure. The seating arrangement throughout the whole arena can be modified, similar to the Manchester Arena. The ground surface can also be changed between ice rink, basketball court, exhibition space, conference venue, private hire venue and concert venue. The arena was built to reduce echoing, a common problem among London music venues. U2's sound manager, Joe O'Herlihy, worked with acoustic engineers to introduce measures such as sound absorbing material on the arena roof and the bottoms of strategically placed seats to reduce echoing. Despite The O2 arena's being open for only seven months of the year, the venue sold over 1.2 million tickets in 2007, making it the third most popular venue in the world for concerts and family shows narrowly behind the Manchester Arena (1.25 million) and Madison Square Garden in New York City (1.23 million). In 2008, it became the world's-busiest venue taking the crown from MEN Arena with sales of more than two million For events with no age limit, under 15's must be accompanied by an adult. For standing concerts, under 16's are not allowed in the standing area. If you are lucky enough to look under 25 you will be asked for I.D to purchase alcohol. The venue reserves the right to refuse service. We take the safety and security of all our fans and visitors very seriously. If you're coming to the arena, please ensure you arrive in plenty of time to pass through our enhanced security checks. Our security and guest relations team are there for your safety. Please cooperate fully with all security checks and support these vital members of our team as they carry out important work to keep us all safe and sound. Please find out more here
By Tube
The Jubilee Line to North Greenwich for The O2 (Zone 2). Canary Wharf in 5 minutes London Bridge or Stratford in 10 minutes Waterloo in 15 minutes Bond Street in 20 minutes
By Train
Charlton mainline station is just a short ride on either a 486, 472 or 161 bus from North Greenwich underground station. All these buses start their route from North Greenwich underground so there is no confusion as to which way to go! Southeastern runs services to Charlton train station. Turn left out of the station and catch 486, 472 or N472 buses to North Greenwich, taking you approximately 10 mins to reach the front door of The O2.
By Car
The M25 (London orbital), the A2/A20 (from the South East) and the M11 (from the North) all offer good access and The O2 is clearly signposted. The postcode for route and journey planners is SE10 0DX. If you need a junction please try Millennium Way or Edmund Halley Way. The O2 is adjacent to North Greenwich Underground and bus station..
By Taxi
North Greenwich station has its own dedicated taxi rank for up to 50 black taxis. In partnership with Transport for London the taxi rank is now marshalled after key arena events. Only taxis (black cabs) can be stopped by customers and can pick up off the street. Private hire vehicles cannot accept fares without being booked in a private hire office or over the phone first.
By Bus
Eight TFL bus routes operate to and from The O2 including three 24 hour bus services. Key destinations include Stratford, Charlton, Greenwich, Lewisham, Woolwich, Eltham and Central London. Please visit www.tfl.gov.uk for timetable information.
Parking
Car parking is available for all events at The O2 arena. It is highly recommended that your parking is pre-booked due to the limited availability of space. To purchase your parking call 020 8463 6718 (10am - 8pm daily). Pre-booked parking is 17.50 pounds plus 2.50 pounds service charge. Pre-booked tickets can be purchased up until 5pm on the day of an evening event or up to 2 hours before a matinee performance.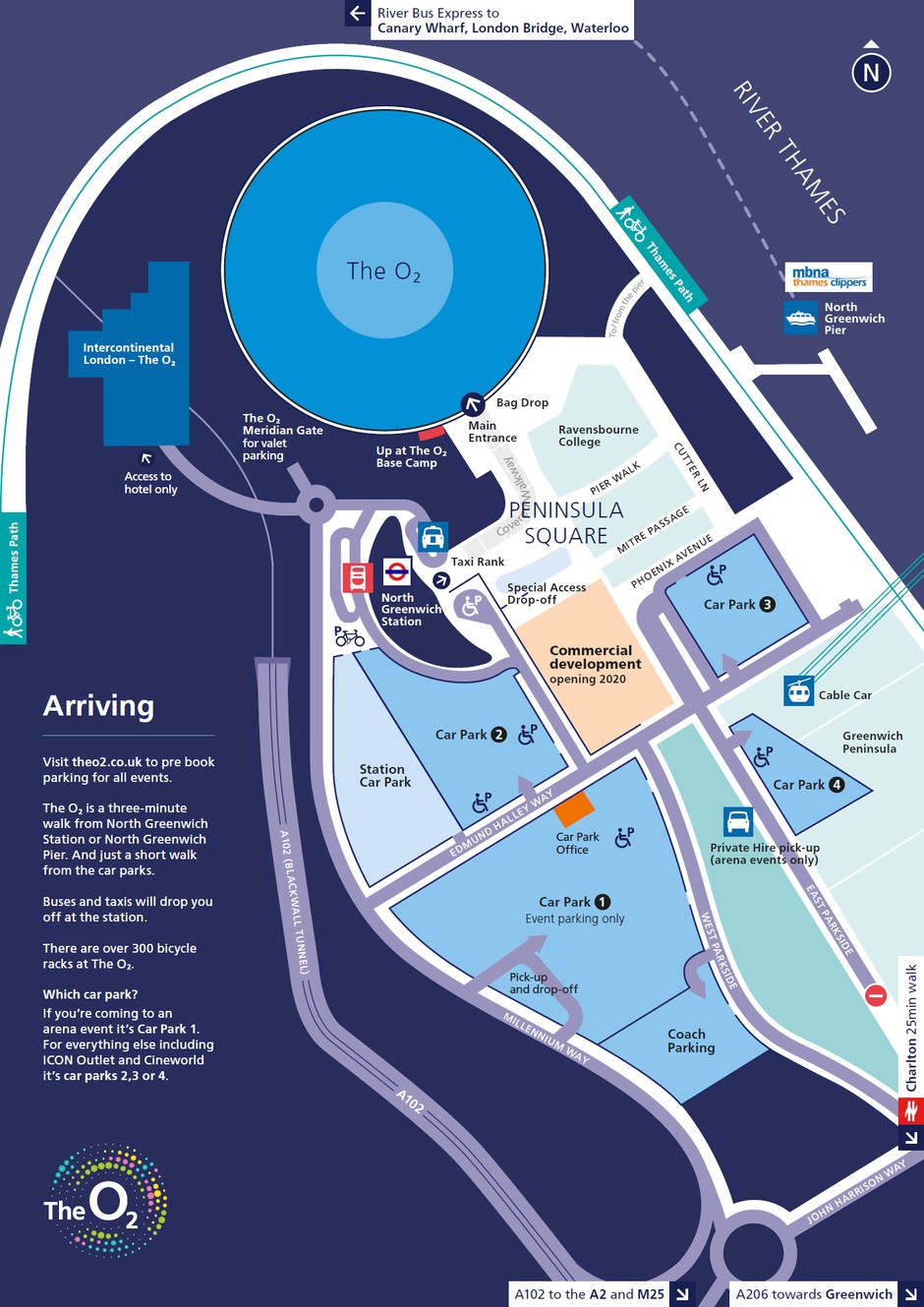 General Access Info
Please contact the venue directly for any accessible queries. Further information can be found here