The Steve Hillage Band Tickets
Exeter Phoenix, Exeter.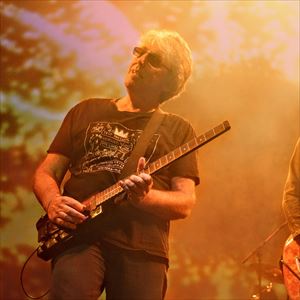 Limited seating is available, please call 01392 667080 Opt 1 to book.
Please note: any ticket bought from Gigs & Tours that is no longer required can be resold via Twickets. We reserve the right to cancel Tickets resold in the course of a business or for commercial gain.
More information about The Steve Hillage Band tickets
Just before the pandemic, Steve Hillage reformed The Steve Hillage Band to play classic tracks from the albums 'Fish Rising' 'Motivation Radio', 'L' and 'Green'. They played a small number of UK gigs to universal critical acclaim before having to abandon the tour which we are delighted to announce has now been re-scheduled.
Steve and longstanding partner Miquette Giraudy will be joined on stage by musicians from the current line-up of the band Gong, who Steve was guitarist with before going solo in 1975. When putting this project together Steve stated: "I need musicians of the highest calibre to make it all work properly. The people in Gong fit the bill. I know them well, have guested with the band on a number of recent occasions and they're all keen to do this." His judgement has paid off a treat, resulting in stunning renditions of often very complex tracks by a band which is also clearly having a great time together on stage, leaving thrilled audiences in their wake. This performance is accompanied by stunning visuals, developed specially to reflect the magic of the music.
Support will come from The Utopia Strong, the electronic improvisation outfit formed by current Gong front-man Kavus Torabi, ex-Coil member Michael J York and world snooker legend Steve Davis!
This event is a fundraiser for Exeter's sound alternative community radio station, Phonic FM.
What reviewers said about the Steve Hillage Band before their tour was abandoned:
"A set full of '70s material it may have been, but this doesn't have the feel of a nostalgia show at all. This is not old hippie music. This is timeless, ageless hippie music. And thank God, and Mr Hillage, that we still have it. Tonight was worth waiting forty years for and then some. Hopefully we will see this show roll around again, and soon." Velvet Thunder review of Cardiff 2019 gig
"The sheer joy as they riffed out on George Harrison's 'It's All Too Much' and we were in glorious abandon and the almost expected progression through 'Salmon Song' and the combo of the 'Lunar Musick' and 'Solar Music Suites'." – Louder Than War reviewer
"I could not have programmed a better set – genuinely outstanding and I was particularly thrilled to hear 'Sea Nature' and 'Ether Ships'." – Louder Than War audience comment
---
STAGE TIMES
Doors time: From 7pm
Support – The Utopia Strong: 7.45pm – 8.30pm
Steve Hillage Band: 9pm