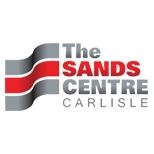 Tickets for events at Sands Centre, Carlisle
By Train
The railway is only a short distance away - please use www.nationalrail.co.uk (0845484950) for train details.
By Car
If travelling by car the centre is well signposted from the M6 - if travelling south use junction 44 or travelling north use junction 43 (for sat navs use CA1 1JE).
By Taxi
There is a car and coach drop-off point outside the building with a maximum stay of 15 minutes. Coach parking is available at Devonshire Walk, next to Carlisle Castle (for sat navs use CA3 8UL).
By Bus
The bus stations are only a short distance away - please use www.traveline.info (08712002233) for bus routes.
Wheelchair Access
It is accepted that a wheelchair may be used to assist your access to and around the venue and we accept that it may be preferred for you to transfer to a theatre seat. However if you are transferring to a theatre seat, you will need to be independently capable of leaving the venue in the event of an evacuation, without access to your wheelchair. If you cannot fulfil this, in line with health & safety, risk assessments and following advice from the Fire Safety Officer, we have to insist that you remain in your wheelchair. For wheelchair positions please reference the seating plan in our current What's On, or on our website thesandscentre.co.uk If you require assistance in completing the application form or would like more information, please contact the Box Office on 01228 633766
General Access Info
The Essential Access Companion Scheme exists to enable all patrons to equally participate in The Sands Centre's events.The purpose of the scheme is to ensure the safety and enjoyment of the Scheme Member at our live events. The Essential Companion's primary role is to assist the Scheme Member with mobility or guidance, to enable them to use and enjoy the services at The Sands Centre. The Essential Companion is expected to attend to the needs of the Scheme Member at all times whilst on the premises. The scheme offers members the opportunity to obtain one ticket, free of charge, for the Essential Companion.