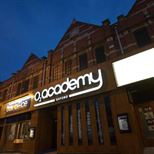 Tickets for events at O2 Academy2 Oxford, Oxford
O2 Academy2 Oxford tickets
Sorry, there are no shows on sale at O2 Academy2 Oxford right now.
Book Tickets: To purchase tickets in person, O2 Academy Oxford Box Office is open for ticket sales between 12pm and 5.30pm from Monday to Friday. (No booking fee charged on cash transactions). Public holidays may vary. Door sales and purchases for future events made on the night of a show are CASH ONLY. Tickets for Box Office collection can be collected from 15 minutes before the time of doors for the event until 15 minutes after the last band goes on stage. For clubs the box office will close on last entry. If you have opted for your tickets to be posted or emailed to you and they have not arrived a couple of days before the event, please contact the ticket agency you purchased them from. As you have purchased through an outside company the Box Office will not be able to help, and most ticket agencies close on evenings. Age Restrictions: Gigs: Most gigs are Under 14s must be accompanied by an adult however please check before booking as some gigs may vary. About Designed to the highest specification, O2 Academy Oxford attracts a strong calibre of international touring artists due to its larger capacity in the City and technical capabilities. The venue has three, flexible performance spaces for live music and club events with a total building capacity of 1,350. Contact Us Box Office: 0844 477 2000 (24 Hr) Email: mail@o2academyoxford.co.uk Tel: 01865 813 500 For recruitment, visit Academy Music Group For press please email press@academy-music-group.co.uk For marketing and partnerships please email jonny@academy-music-group.co.uk Age Restrictions Gigs: The minimum age is 8 unless with written permission from venue management. Under 14s must be accompanied by an adult. Clubs: Strictly over 18s (Photographic ID may be required)
By Train
Oxford British Rail Station (08457 48 49 50) or visit www.nationalrail.co.uk. Please note this is approx. 15 minutes car/taxi journey away. The number 1 bus runs directly from the station to the venue. The station is not in walking distance.
By Car
Travel: To find O2 Academy Oxford visit www.maps.google.co.uk Travel information in and around Oxford visit www.visitoxfordandoxfordshire.com
By Bus
For bus routes visit www.oxfordbus.co.uk and www.stagecoachbus.com/oxfordshire Oxford Tube (coaches to and from London) 24hrs www.oxfordtube.com
Parking
Union Street, Oxford (behind TESCO supermarket). This is pay and display.
Wheelchair Access
Booking Tickets To book tickets for O2 Academy Oxford Please contact the venue direct on 01865 813 505 or email boxoffice@o2academyoxford.co.uk to check the accessibility for your needs. Spaces may be limited and will be sold on a first come first served basis. Please book your ticket through www.ticketweb.co.uk and then contact the venue on 01865 813 505 or boxoffice@o2academyoxford.co.uk to discuss arrangements and organise your companion ticket should one be required. You can also contact the box office through text relay 18002 01865 813 505 should this be required. Once you have been in contact with the venue you will be sent an email confirmation that should be printed off and brought with you when you attend the event. Companion / Carer Ticket This venue offers one free companion ticket this can be booked by contacting the venue directly. These can be limited in availability so please ensure you contact the venue as soon as possible to arrange. Companion / carer ticket holders should be able to meet the needs and assist the person they are accompanying in the event of an emergency. Braille Braille information sheets are available on request please email boxoffice@o2academyoxford.co.uk or call 01865 813 501. Arriving at the Venue We recommend arriving at the venue 10-15 minutes prior to the doors opening. The door time will be stated on the tickets or confirmations. Please try to arrive at the venue no later than 60 minutes after the doors open. On arrival please go to the front doors of the venue and present your confirmation email / letter to security. They will help in anyway they can. Accessible Area & Facilities O2 Academy1 There is no designated area for disabled customers in the venue, however we will do what we can to accommodate all disabilities and an area will be made on a show by show basis based on peoples requirements. There is level access to the main room downstairs from the front doors. There is 1 accessible toilet in O2 Academy1. This is accessed by radar key, available from staff if you do not have one. We are also available for advance visits by customers to see what we have available and to help people make themselves aware of the surroundings when the venue is quiet before the show. Please contact the venue in advance to arrange this. O2 Academy2 This area is located upstairs with a large number of steps. There is currently no accessibility up to this area for customers in wheelchairs due to the design of the building. If customers wish to attend a show in this area please contact the venue directly to discuss the facilities. There is no accessible toilet in this location. We are also available for advance visits by customers to see what we have available and to help people make themselves aware of the surroundings when the venue is quiet before the show. Please contact the venue in advance to arrange this. Bars The bars do have lowered sections for accessibility. Box Office The Box office does not have an induction loop fitted at present. The counter is of an accessible height for all customers. Merchandise The merchandise counter is located in an accessible area in O2 Academy1. Strobe Lighting & Effects Events may use strobes, stroboscopic lighting, smoke effects & pyrotechnics. On such shows signs are displayed. On shows with a higher than usual amount/level of this effect extra signage is displayed. Transport & Other Local Information For local bus services in the oxford area please go to www.stagecoachbus.com or www.oxfordbus.co.uk Parking availability. There is 1 disabled parking bay in the road opposite the venue in East Avenue, and parking is also available in the Union Street Car Park behind Tesco. Details of nearby accessible hotels, bars and restaurants can be found on: www.directenquiries.com Nearest bus stops are about 1 yard from the venue on the same side of the road as the venue and approx 3 yards on opposite side of the road from the venue.