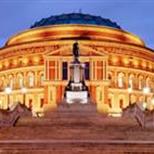 Tickets for events at Royal Albert Hall, London
Royal Albert Hall tickets
The Royal Albert Hall is a concert hall situated on the northern edge of the South Kensington area, in the City of Westminster, London, England, best known for holding the annual summer Proms concerts since 1941. Since its opening by Queen Victoria in 1871, the world's leading artists from several performance genres have appeared on its stage and it has become one of the UK's most treasured and distinctive buildings. Each year it hosts more than 350 events including classical concerts, rock and pop, ballet and opera, sports, award ceremonies, school and community events, charity performances and banquets. The hall was originally supposed to have been called The Central Hall of Arts and Sciences, but the name was changed by Queen Victoria to Royal Albert Hall of Arts and Sciences when laying the foundation stone as a dedication to her deceased husband and consort Prince Albert. It forms the practical part of a national memorial to the Prince Consort - the decorative part is the Albert Memorial directly to the north in Kensington Gardens, now separated from the Hall by the road Kensington Gore. Venue Information For events with no age limit, under 14's must be accompanied by an adult. For standing concerts, under 14's must purchase a seated ticket. If you are lucky enough to look under 25 you will be asked for I.D to purchase alcohol. The venue reserves the right to refuse service. Food and Drink The venue is home to a wide variety of restaurants and bars and encourages advanced booking to guarantee a space. The Hall also offers guided tours of the building and box customers can even order food and drink to be delivered to their private box before arrival. Find out more at www.royalalberthall.com/your-visit/make-your-visit-extra-special Accessibility Number of Steps The Hall has many stepped entrances at Ground level. Ramped access is located at Doors 1, 3, 8, 9 and 12. Public lifts are located at Doors 1 and 8 and serve all levels from Basement to Gallery. The Arena Foyer bars can be accessed via a platform lift from the Basement level at Door 1. Wheelchair Access Fourteen wheelchair spaces with adjacent companion seats are situated in the Stalls at Ground floor level. There are also six wheelchair spaces in the Circle at sections P, R, V and X and four spaces within the unreserved standing area of the Gallery. Please note that due to the physical limitations of the circular shape of the auditorium, the spaces in the Circle are more suitable for customers with good upper body mobility. Hearing Systems The auditorium has an infra-red system with a number of personal headsets for use with or without hearing aids. Guide Dogs If you have a guide dog, the best place to sit in the Royal Albert Hall is in a Loggia or Second Tier Box, where your dog may stay with you. If you are sitting elsewhere, stewards will be happy to look after your dog while you enjoy the concert. Please call the Access Information Line on 020 7838 3110 to organise in advance of your visit. Accessible Bookings: Please contact the venue directly by calling 020 7070 4410 (9am to 9pm Monday - Sunday). Online requests can be made at https://tickets.royalalberthall.com/user/accessibility_request Please see the venue's website for more information www.royalalberthall.com
By Tube
South Kensington (District, Circle and Piccadilly Lines) and High Street Kensington (District and Circle Lines) are the closest Underground stations to the Hall. Walking to the Hall takes approximately 10 minutes from both stations.
By Train
London Victoria is the nearest National Rail train station.
By Car
The Royal Albert Hall is located in South Kensington, facing onto Hyde Park. The address is Royal Albert Hall, Kensington Gore, London SW7 2AP.
By Taxi
Black cabs can usually be hailed from Kensington Gore, outside the front of the building. GoGreenCar is an eco-friendly private-hire car service with a fleet of over 40 hybrid vehicles. They offer great service and style at competitive prices. For bookings, please call 020 7502 3670 or email bookings@gogreencar.co.uk
By Bus
9 - Aldwych to Hammersmith, stopping on Kensington Gore outside the Hall. 10 - King's Cross Station to Hammersmith, stopping on Kensington Gore outside the Hall. 52 - Victoria to Willesden stopping on Kensington Gore outside the Hall. 70 - Acton to South Kensington, stopping on Queen's Gate, 2 minutes walk from the Hall. 360 - Elephant & Castle to the Hall, stopping on Prince Consort Road, 1 minute walk from the Hall. 452 - Wandsworth Road Station to Kensal Rise stopping on Kensington Gore outside the Hall.
Parking
No parking is available at The Royal Albert Hall.
Wheelchair Access
Fourteen wheelchair spaces with adjacent companion seats are situated in the Stalls at Ground floor level. There are also six wheelchair spaces in the Circle at sections P, R, V and X and four spaces within the unreserved standing area of the Gallery. Please note that due to the physical limitations of the circular shape of the auditorium, the spaces in the Circle are more suitable for customers with good upper body mobility.
Hearing Systems
The auditorium has an infra-red system with a number of personal headsets for use with or without hearing aids.
Guide Dogs
If you have a guide dog, the best place to sit in the Royal Albert Hall is in a Loggia or Second Tier Box, where your dog may stay with you. If you are sitting elsewhere, stewards will be happy to look after your dog while you enjoy the concert. Please call the Access Information Line on 020 7838 3110 to organise in advance of your visit.
Access Bookings
0207 838 3110
General Access Info
For all access bookings and information, please call 020 7070 4410.