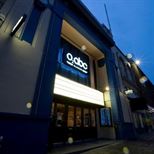 Tickets for events at O2 ABC2 Glasgow, Glasgow
Sorry, there are currently no shows available.
Book Tickets: Online: www.ticketweb.co.uk Telephone Bookings: 0844 477 2000 (24 Hr) To purchase tickets in person, O2 ABC Glasgow is open for cash ticket sales between 10am and 6pm Monday to Friday and 10am-2pm & 3pm-5pm on Saturdays (No booking fee charged on cash transactions). Public holidays may vary Local Outlets: Ripping (0131 226 7010 or www.rippingrecords.com) &Grouchos (01382 228 496 or www.grouchos.co.uk). Age Restrictions: Gigs: Over 14s only, under 16s must be accompanied by an adult Clubs: Strictly over 18s (Photographic ID may be required. UK driving licence or passport only) About O2 ABC Glasgow once housed Scotlands first cinema in 1896 and over the years was also known as The Ice Palace, The Hippodrome and Henglers Circus until reverting to its cinema status in the 20th Century in various incarnations as the Regal, the MGM, Cannon and of course, the ABC until 1999. Converted to a concert venue in June 2005 following an extensive 2m conversion by Regular Music O2 ABC Glasgow is one of Scotlands best-loved live music and club venues. Contact Us Box Office: 0844 477 2000 (24 Hr) Email: mail@o2abcglasgow.co.uk Tel: 0141 332 2232 Academy Music Group information: For recruitment, visit Academy Music Group For press please email press@academy-music-group.co.uk Box Office Currently the O2 ABC box office does not have an induction loop fitted. Merchandise The merchandise stalls in both ABC1 and ABC2 are accessible. Strobe Lighting & Effects Events may use strobes, stroboscopic lighting, smoke effects & pyrotechnics. On such shows signs are displayed. On shows with a higher than usual amount / level of this effect extra signage is displayed. Details of nearby accessible hotels, bars and restaurants can be found on this website. www.directenquiries.com
By Tube
The nearest tube station to is Cowcaddens Underground, which is approx 700 metres down Sauchiehall Street / Cambridge St. Opening times are: 06:30-23:45 Monday-Saturday & 10:00-18:00 Sunday.
By Train
Charing Cross For more information visit www.nationalrail.co.uk The nearest rail station is Charing Cross Glasgow (CHC), which is approx 700 metres up Sauchiehall Street / Elmbank Crescent. Opening times are: 06:00-23:00 Monday-Saturday & 08:20-23:20 Sunday.
By Car
Travel: To find O2 ABC Glasgow maps.google.co.uk AA Route Planner www.theaa.com For travel information in and around Glasgow call 0871 200 2233 (option 3) (10p per min from BT landline, charges from mobiles and other providers may vary), visit www.travelinescotland.com or www.spt.co.uk
By Bus
www.firstgroup.com For long distance visit www.nationalexpress.com The nearest bus stops to O2 ABC are located 20 meters from the venue entrance. This is a stop for the following services: 42; Barlanark Drumchapel X1; Hillhouse Glasgow 11; Robroyston Clydebank 23; Summerston Govan 44; Eaglesham Knightswood 747; Buchanan Bus Station Glasgow International Airport
Parking
The nearest car park is situated on Elmbank Crescent (1 minute from venue, open 24 hours) www.glasgow.gov.uk The nearest car parking facilities are: Q-Park located on Bath Street, 24 hours. City Parking - located on Elmbank Crescent, 8am-6pm daytime and 6pm-8am overnight. After 6pm customers can park for free in parking bays on or around Sauchiehall Street.
Wheelchair Access
Booking Tickets To book tickets for O2 ABC Glasgow: Please contact the venue direct on 0141 332 2232 option 2, or email mail@o2abcglasgow.co.uk Monday to Friday at 10am-5pm or Saturdays between 10am-2pm and 3pm-5pm to make a booking. Or should you wish to purchase a disabled ticket for the event earlier than 10am please purchase from ticketing companies who are selling but just buy a standard ticket. Once you have purchased your ticket you must contact the venue box office on 0141 332 2232 ext 2 to confirm your disabled booking and carer pass if applicable. Spaces may be limited and will be sold on a first come first served basis. Once you have been in contact with the venue you will be sent an email confirmation that should be printed off and brought with you when you attend the event. You can also contact the box office through text relay by 18002 0141 332 2232 should this be required. Companion/Carer Ticket This venue offers one free companion ticket this can be booked by contacting the venue directly. These can be limited in availability so please ensure you contact the venue as soon as possible to arrange. Companion/carer ticket holders should be able to meet the needs and assist the person they are accompanying in the event of an emergency. Braille Braille information sheets are available on request please email mail@o2abcglasgow.co.uk call 0141 332 2232. Arriving at the Venue We recommend arriving at the venue 10-15 minutes prior to the doors opening. The door time will be stated on the tickets or confirmations. Please try to arrive at the venue no later than 60 minutes after the doors open. On arrival please make yourself known to the venue security or staff and they will escort you to your reserved space and accommodate your requirements. ABC 2: ABC2 can be accessed via the main passenger lift from the foyer to the 1st floor. Security will escort you to the hall. Due to the layout of the hall and the variable nature of the events, we cannot guarantee sightlines to the stage but staff will be onsite to assist in any way possible. There is 1 accessible toilet in each of the rooms (ABC1 and ABC2). Security and staff can show you the location upon arrival. Both bars in ABC1 and ABC2 have lowered sections for service, ABC1 section is located at the House Right side of the bar, ABC2 has one located at House Left side next to the sound booth. Polar Bar: The Polar Bar does not have wheelchair access due to its height location in the venue (between floors, requiring a small set of steps to gain entry).