James Yorkston & Nina Persson Tickets
Summerhall - Dissection Room, Edinburgh.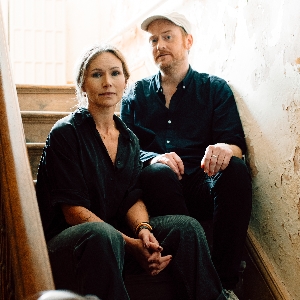 This event is for 16 and over - No refunds will be issued for under 16s.
Please note: any ticket bought from Gigs & Tours that is no longer required can be resold via Twickets. We reserve the right to cancel Tickets resold in the course of a business or for commercial gain.
More information about James Yorkston & Nina Persson tickets
On January 13th, James Yorkston, Nina Persson and The Second Hand Orchestra will release The Great White Sea Eagle, the follow up to James Yorkston and The Second Hand Orchestra's The Wide, Wide River – a Guardian Top 10 Folk Album of 2021.
The record didn't start life as a follow up; in early 2021, Yorkston began visiting his studio in Cellardyke, Fife and for the first time, starting writing songs on the piano as opposed to his usual guitar as he gazed upon the sea outside his window.
After sending the first five or six songs to Karl-Jonas Winqvist (the ringleader/conductor of TSHO), they began to discuss working on the music together. With Yorkston's shift from guitar to piano, they thought about what other changes they could make to their process which led to the involvement of a guest singer and the legendary Nina Persson (The Cardigans) was brought into the fold.
They followed the same methodology as The Wide, Wide River – apart from James, Nina and KJ, none of The Second Hand Orchestra had heard the music prior to entering the studio – and the arrangements were made up on the spot. Yorkston summarises: "Everyone who was playing in The Second Hand Orchestra, in their own way they are all unique and colourful players. There was no-one there who didn't know what to do. I would bring them the songs, we would start one – I would play it, and second time round people would start singing and playing, and by the time we had done it three or four times we would hit record and we would be ready to go. And the thing that they all had was the ability to give each other space and to come up with their parts based on what other people were playing naturally was a very quick process, and they were all so open, nobody was egotistical. Everything was just happy. I love the wildness in it."