Faith No More Tickets
O2 Academy Brixton, London.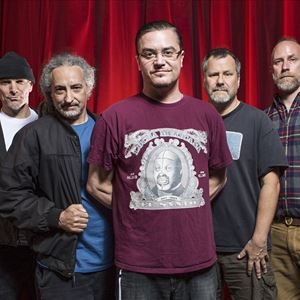 Resale T&C's 1. Tickets may only be purchased by individuals for personal use. Tickets may not be purchased by brokers, businesses, traders or for business or trade purposes, nor be offered for re-sale for profit or commercial gain. 2. This ticket is sold by the Promoter directly to the Consumer. Any tickets purchased by business or traders in breach of the Terms & Conditions will be cancelled. 3. This ticket is a personal, revocable licence and at all times remains the property of the Promoter. This ticket must be surrendered to the Promoter upon request. 4. This ticket will IMMEDIATELY BECOME INVALID if resold OR OFFERED FOR SALE unless the sale is through one of the Artist's approved face-value resale partners such as SEE Tickets Fan-to-Fan Marketplace (please visit the artist's website for details of other partners). Tickets sold via third parties and other unauthorised outlets, including online auction sites, are not valid for admission. Reselling a ticket through an unauthorised outlet makes it void and the ticketholder may be refused entry. 5. Tickets are limited to a maximum of 4 tickets per person. 6. Refunds will only be offered in the event of cancellation or rescheduling and can only be claimed by the person who made the original booking. Please see the Purchase Policy for further details. Only tickets purchased through approved agents are valid for admission. The venue reserves the right to refuse admission.
8+ only. 8s to 14s must be accompanied by an adult. No refunds will be given for incorrectly booked tickets.
Please note: any ticket bought from Gigs & Tours that is no longer required can be resold via Twickets. We reserve the right to cancel Tickets resold in the course of a business or for commercial gain.
More information about Faith No More tickets
Price includes a £1.50 venue facility fee

General O2 Academy Brixton Information:

Letters or Authorisation are accepted on non-names on ticket events. Just bring a letter from whoever booked
them for you, stating your name, the booking reference and the last four digits
of the card they used to buy them giving you authorisation to collect the tickets.

For events with no age limit, under 14's must be accompanied by an adult and
seated in the circle.

Under 21's require I.D. to purchase alcohol.

Please note that if you have selected unreserved circle you will either have
to sit in the circle or stand at the back of this area.