ESL Weekend Ticket
Bowlers Exhibition Centre, Manchester.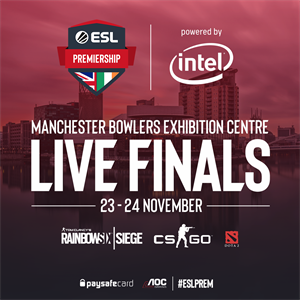 If you are looking to attend the ESL Rainbow Six Siege Premiership Winter Finals and are aged 16 or 17, you can attend by completing a parental consent form found here: http://esl.im/ConsentForm. You will need to bring your ticket, the physical signed form, and a form of government approved ID.
Age restrictions:
ESL Rainbow Six Siege Winter Finals - Sat 23/11 - 18+
ESL Premiership Winter Finals - Sun 24/11 - U14s accompanied by an adult 18+
Please note: any ticket bought from Gigs & Tours that is no longer required can only be resold through Twickets. Reselling through any other channel will render the ticket(s) invalid.
More information about ESL Weekend Ticket tickets
ESL Rainbow Six Siege Premiership Winter Finals (Saturday)
JOIN THE ACTION!

ESL UK are excited to announce the Live Finals for the Winter Season 2019 of the Rainbow Six Siege ESL Premiership and see the best teams Clash! Breach your way into the BEC Manchester on the 23rd of November as the Winter finals will showcase the highest IQ plays and cannot be missed. Who will Blitz their way to the top to become our Winter Winners and who will be left in the Ash? Come and find out!

Schedule
Doors Open: 11:00
Broadcast LIVE: 11:45
Semi Final 1: 12:00 - 15:15
Semi Final 2: 15:45 - 19:00
Grand Final: 19:20 - 22:35
Doors Closed: 23:00

Teams
TBA
Teams are currently playing online weekly to qualify for the finals, the top four will make it to Manchester. Keep an eye out on our social media to keep up to date with the latest standings.

Signing Schedule
Check social channels @ESLUK to see when you can meet your favourite players
JOIN US IN MANCHESTER FOR THE #ESLPrem WINTER SEASON LIVE FINALS

How to get there
By Train:
Nearest train station to BEC: Trafford Park
2 miles from The BEC (35 minute walk)
Local taxis outside the train station or use Uber, estimated cost £10
By Car:
Public parking available at The BEC

ESL Shop will be onsite with exclusive merch to purchase
- Free to play Area
- Food and drink available on-site
Head to ESL's social media @ESLUK to find out more information in the run up to the live finals.
---------------------------------------------------------------------------------------------------------------------------------------------------

ESL Premiership Winter Finals (Sunday)
JOIN THE ACTION!

ESL UK are excited to announce the Live Finals for the Winter Season 2019 of the CS:GO ESL Premiership! Rush your way into the BEC Manchester on the 24rd of November as the Winter finals will have intense action that we promise is not a mirage. Who will overpass the competition to become our Winter Winners and who will be left in the Dust? Come and find out!

Schedule
Doors Open: 11:00
Broadcast LIVE: 11:45
Semi Final 1: 12:00 - 15:15
Semi Final 2: 15:45 - 19:00
Grand Final: 19:20 - 22:35
Doors Closed: 23:00

Teams
Teams are currently playing online weekly to qualify for the finals, the top four will make it to Manchester. Keep an eye out on our social media to keep up to date with the latest standings.
JOIN US IN MANCHESTER FOR THE #ESLPrem WINTER SEASON LIVE FINALS

How to get there
By Train:
Nearest train station to The BEC: Trafford Park
2 miles from The Venue (35 minute walk)
Local taxis outside the train station or use Uber, estimated cost £10
By Car:
Public parking available at The BEC

ESL Shop will be onsite with exclusive merch to purchase
- Free to play Area
- Food and drink available on-site
Head to ESL's social media @ESLUK to find out more information in the run up to the live finals

Alongside all the ESL CS:GO Premiership finals, on the Skirmish stage will host Dota2 finals on the Sunday. Below we have more information for you about their schedules.

DOTA2 Live Finals - Sunday
ESL UK are excited to announce the Dota2 Skirmish Finals! The top 10 players from the online skirmish league will compete in the Live Finals for a prize pool for £2500!


JOIN US IN MANCHESTER FOR THE #ESLPrem WINTER SEASON LIVE FINALS