Catfish And The Bottlemen
Utilita Arena, Newcastle.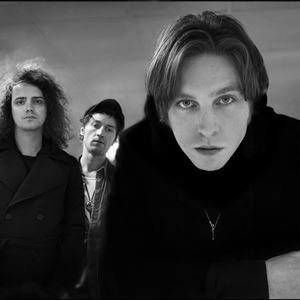 Catfish And The Bottlemen November 2019
TICKETS ARE LIMITED TO X4 PER PERSON. THE NAME OF THE LEAD BOOKER WILL BE PRINTED ON ALL TICKETS THEY PURCHASE, THIS PERSON MUST BE IN ATTENDANCE AT THE CONCERT
The name cannot be changed once the purchase has been made.
When the lead booker attends the show they will be asked to present matching PHOTO ID to gain entry to the venue. IF THE ID DOES NOT MATCH ENTRY WILL BE REFUSED.
The ticket purchaser must enter the concert accompanied by all their guests. Guests will not be allowed entry without the lead booker present and ID matching the name on the tickets.
The only places that tickets purchased here can be re-sold to another customer for entry to the show is through the face value ticket resale sites See Tickets fan-to-fan and Twickets. Other than this tickets are strictly not transferable
Failure to adhere to the terms and conditions may result in the customer's order being cancelled without refund.
No under 14s in the standing area, 0 - 14s must be accompanied by an adult. No refunds will be given for incorrectly booked tickets.
More information about Catfish And The Bottlemen tickets
Please note that some seats have possible sight restrictions as below:

Block 200/218 - listed as possible just in case there are large screens/speakers that might cause an issue
Back rows of 200/201/202/215/216/217/218 - these are level with the row in front so only really an issue if you have a tall person in front of a small person
Block 107 - listed as possible in case the mixer in large/contains cameras etc.
Blocks 207-211 - These are under the overhang of the balcony/behind pillars.
Block 100/114 - usually blocked slightly by speakers/staging


CHILDREN UNDER 14 Policy

As a responsible entertainment venue, the safety and comfort of our patrons is paramount. This Duty of Care is particularly relevant when protecting minors under 14 years old; as such our policy is that all children under 14 years old must be accompanied by an adult, defined as someone 16+ years of age who will be present for the full duration of the event.

For certain shows where the audience is both seated and standing, no one under 14 years old will be permitted AT ALL to stand on the auditorium floor.

Parents should always be aware of their general responsibilities regarding their children's safety in situations where they are outside their direct control, and indeed legislation detailing these responsibilities.

Public safety continues to be our priority. We're doing all we can to keep you safe at our venue. Please remember we do not permit backpacks or large bags and you will be screened upon arrival. Read more about our safety policy here http://www.metroradioarena.co.uk/venue-information/venue-safety/

We must stress we do not permit backpacks or large bags.

Our Bag Policy
We encourage you to only bring essential items and stress no large bags or backpacks at all will be permitted into venue.
We will not allow any large bags, backpacks, holdalls, luggage or computer bags into the venue. There is no storage or cloak room facility available so please make alternative arrangements before arriving to the venue.
Exceptions will only be made for those with medical requirements and/or special needs, we ask this is communicated to venue ahead of visit for ease of entry. Please contact us on mracustomerservices@smgnewcastle.co.uk
All entry constitutes consent to search.

Wheelchair Access - There are many wheelchair spaces in the arena. They need to be booked through the venue.

Hearing Systems - The arena has a loop system. Please contact them for more details.

Access Bookings - please call 0800 988 4440

General Access Info:

To better accommodate your needs, Metro Radio Arena has requested that all accessible seating ticket accommodations be solicited only through their representatives. Please contact a Metro Radio Arena representative for further help with your ticket purchase. The number is 0800 988 4440 or email accessibility@smgnewcastle.co.uk.