Manic Street Preachers Tickets and Dates
Manic Street Preachers have announced the release of a special edition 'Everything Must Go 20' box set to celebrate the album's 20th Anniversary.
The deluxe reissue includes fully restored footage of the band's entire 1997 Nynex Arena performance available for the first time, as well as the remastered album and b-sides on CD, the album on heavyweight vinyl, an exclusive new film 'Freed From Memories' directed by Kieran Evans, the official music videos for 'A Design For Life', 'Everything Must Go', 'Kevin Carter' and 'Australia' and a 40-page book of unseen photos.
Also available will be a double CD comprising the remastered album and the Nynex Arena audio, also available for the first time.
Both box set and double CD will be released on 20th May, while 1,000 signed copies of the box set are available to preorder from the Manics' store now here: http://store.manicstreetpreachers.com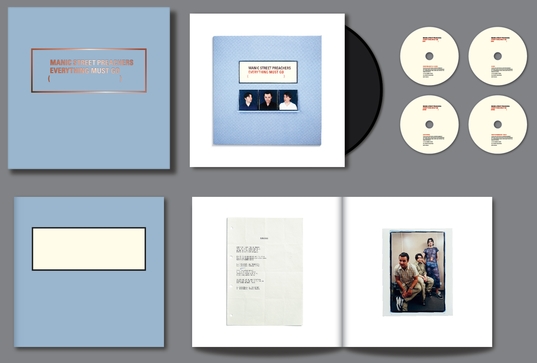 Comments from Facebook
Nancy Buijk-v Huijgevoort
This area is intended for discussion only. If you have a question about your order, use our Customer Service section. Comments enquiring about existing orders, including personal details, or with questions will be deleted.